It is Friday and time for a new challenge over at
Stampin' for the Weekend
Challenge #42 - Christmas in July with a sketch
and Sandie has made the great sketch for you....
Our fabulous sponsor this week is
Simon says Stamp!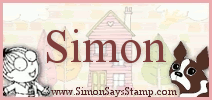 who has a $25 shopping voucher for the lucky winner.
***
I have used a rubber stamp set from North Star Stamp
The stamped Gingerbreadmen are heat embossed
The recipe is in Norwegian:OI
If you feel for starting on you Christmas cards and can't find inspiration in the summer heat, go over to
Stampin' for the Weekend
to look at the lovley DT work.
Don't forget to visit our Guest Designers
Jacky and Yvonne:O)
This is my last DT card for
Stampin' for the Weekend
. I have now been a part of their talented group for a year, and have decided to walk new paths. It has been a pleasure to get the opportunity, this will always be my FIRST DT job, so I will treasure this adventure in my heart:O)
Love you all:O)
Thank you for stoppin' by and have a lovely weekend.
Hugs,
I have entered this card here:
Allsorts #58
- Embossing
Crafty Creation #74
- Icecream and Cakes
(mine is Vanilla ice and Brownie)
Winter Wonderland
- Punch It Out!